Highly sophisticated and innately expensive in appeal, all-white outfits make you look like a high-end fashion connoisseur without spending a fortune.
Think of white not as the year's colour but as today's zeitgeist. The '80s were drenched in electric shades, the '20s favoured all-black, and now in keeping with the change, fashion-forward individuals prefer a blank canvas. Thanks to Instagram, fashion savants from all over the world are showing a myriad of ways to mix and match crisp whites.
Wendell Whites bring together the best of the label's signature closet essentials in a serene hue. With endless styling possibilities, these styles fuse minimalism and versatility.
In timeless silhouettes that are sure to stand the test of time, you can wear them all year round by adding your personal touch to them!
White Asymmetric Embroidered Cape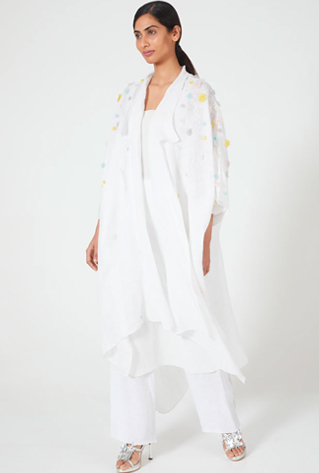 Want to savour the fleeting moments of summer? Our White Asymmetric Embroidered Cape fits like a dream and is a perfect white layering piece that can be worn over any slip dress or tank top you own.
White Shirt Dress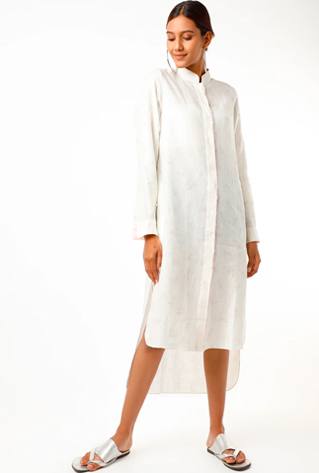 Whether for the office or after-hours, an all-white outfit is always on-trend. With a lot of style options, this Ivory Calla Lilie Shirt Dress is an easy-to-wear wardrobe foundation. Its brilliant, slick appearance and suit-friendly cut make this dress shirt a chic addition to your closet.
Slit Tunic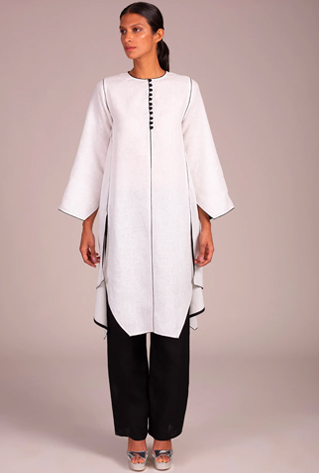 Like the white collared shirt, the white tunic is another piece of the puzzle that works best in a more casual daytime setting. Sharp in more ways than one, this pick is perfect for making a statement. Striking and theatrical, this White Double-Slit tunic is set apart and defined by its sleek asymmetric silhouette and tailored detailing.
White Gauze Linen Pintuck Kurta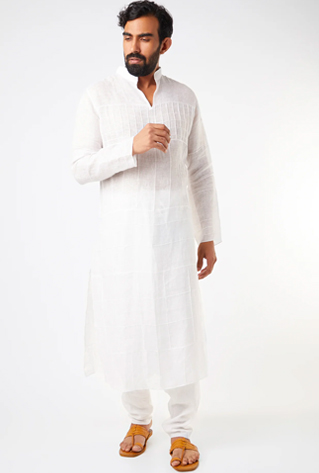 A white Kurta emphasises traditional craftsmanship without dominating the attire, which makes it a versatile and essential element in traditional Indian fashion. Crafted from Gauze Linen and featuring a pintuck design, this investment piece can be worn year-round and offers sublime elegance.
Mundu Cotton White Shirt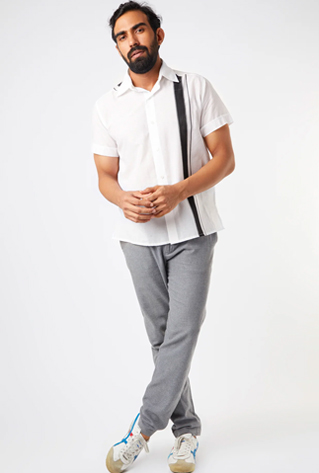 A plain white shirt exudes timeless elegance, surpassing other variations such as ruched or deconstructed designs. Our Mundu Cotton White Shirt is striking due to its robust simplicity and unique appeal. Depending on your outfit, it can be paired with any colour and help balance out bold shades.
White Linen Shirt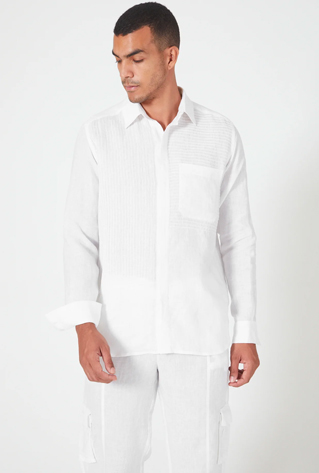 White Shirts are a wardrobe staple. They are a foundation piece of a well-tailored wardrobe, versatile enough for any setting, simple or jazzy. Our White Linen Shirt is a stylish, soft, and perennial definition of sophistication and investment that always stays in style.
It's all about playing with textures, layers, and proportions when it comes to Wendell Whites.
PS Make a bold statement with your accessories, from bright sandals to rose gold and gold jewellery. If bright and bold don't appeal to you, mix them with buttery neutrals.
Also, delight in fuss-free styles in a wide range of mood-boosting hues at www.wendellrodricks.com or visit our stores in Mumbai (Juhu | Kala Ghoda | Lower Parel).